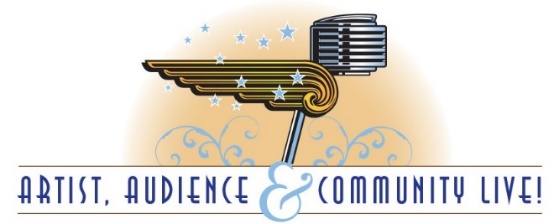 FOR IMMEDIATE RELEASE:
Artist, Audience & Community Live! 
PRESENTS
Sad Daddy
Thursday, January 5, 2023
Each of the Sad Daddy band members sing lead and write original tunes, and their sound is truly a mix of American Roots music. From early blues, jazz and jug bands to country, folk, and bluegrass, to soul and funk, they combine many influences to create an indefinable genre they like to call Sad Daddy. Joe Sundell, on banjo and harmonica, Brain Martin on guitar, kazoo, mouth horns, and harmonica, Melissa Carper, on upright bass, and Rebecca Patek on fiddle, each add unique pieces to the Sad Daddy pie.
In 2020, the four members conspired and united in Greers Ferry, Arkansas to create their third album, Way Up in the Hills – a reflection on the state of the world and the desire to go back to simpler ways and self-sufficiency. The music was distilled into a distinctive sound featuring porch stomps, ham boning, the sounds of insects buzzing, and bacon sizzling, to fashion a picking-on-the-porch vibe into the fun and refreshing creation of Way Up in the Hills."
Tickets available online for $52.50 at www.AACLive.com
For more information Contact:
Rob Goodfellow
AACLive!