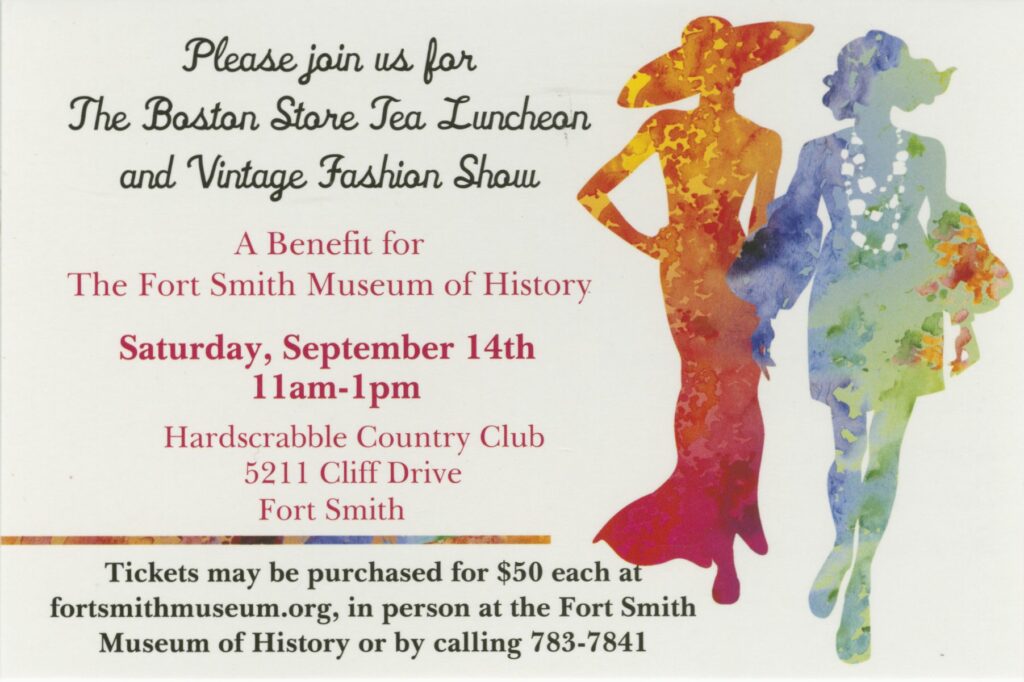 Many Fort Smith ladies fondly remember the Boston Store, the fabulous department store once located on Garrison Avenue. Especially popular was the Boston Store Tea Room, where delectable sandwiches and desserts were served in an elegant atmosphere. The Fort Smith Museum of History will present a recreation of this fond memory at Hardscrabble Country Club on Saturday, September 14th. A trip down memory lane will include a fabulous Tea Room inspired buffet, a fashion show of vintage clothing once purchased at the Boston Store, as well as accessories and memorabilia on display. View wonderful dresses, suits, coats, furs, and accessories modeled by museum supporters. A $50.00 reservation includes Tea Room favorites such as three ring circus, castle sandwiches, quiche lorraine, crepes, baked fudge, blondies and many other delectable treats reminiscent of the original menu.
Originally doing business as Baer Brothers beginning in 1879, the fine store offered shoppers quality merchandise not previously associated with Western Arkansas. The tradition of offering fine goods continued with the Boston Store on Garrison Avenue. Owner Rudolph Ney quickly developed a reputation for "doing something extra" for customers. The store continued to provide fine goods at the Garrison Avenue location until 1972, when it moved into the newly opened Central Mall. In 1984, the Boston Store closed its doors for good, ending a long tradition in Fort Smith.
Join the Fort Smith Museum of History to celebrate and remember the tradition of the beloved Boston Store in Fort Smith. For reservations, please visit fortsmithmuseum.org, come by the museum at 320 Rogers Avenue in Fort Smith, or call 479-783-7841 to pay by phone.