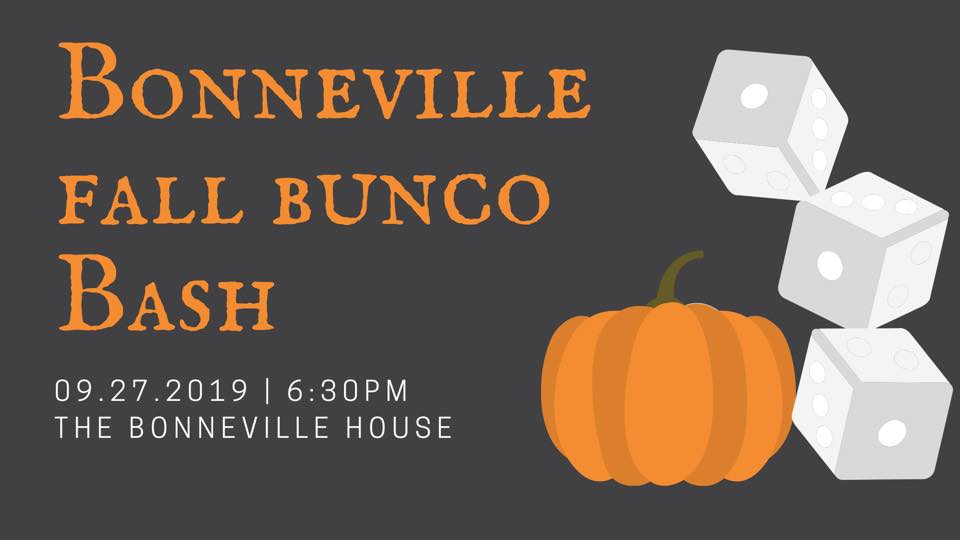 Join us for a fun night of DRINKS DESSERT AND DICE at the 2nd annual Bonneville Bunco Bash on September 27th!
Seats are LIMITED so buy your ticket in ADVANCE! Early bird tickets are on sale now for $15, so call your friends and let them know!
IMPORTANT GAME INFO: Don't know how to play?! No worries! Bunco is a fun game of chance and we will explain the game to everyone beforehand.
If you want to play in the same group, we recommend that you buy 4 tickets together when you checkout. There will be 4 players per table and 3 tables per group. If you buy individual tickets your seat will be chosen at random!
PRIZE INFO: one player from each group will be entered to win one of the following prizes: Most Buncos, most baby buncos, most wins, most loses… there will also be some surprise bonus prizes that all players will be entered to win!
All proceeds benefit the Bonneville House which is a local non-profit organization who mission is to preserve and maintain this magnificent historical icon that is located in Fort Smith's historic district. With proper preservation, we can continue to open up the house to our community for future generations to enjoy. It also enables us to continue in our community outreach programs (ie: Back to School Supply Drive, Santa Night for Shelters and local foster families, Special Non-profit Venue rates for fundraisers, etc…)