Quasar Gaming Returns to Fort Smith September 20-22,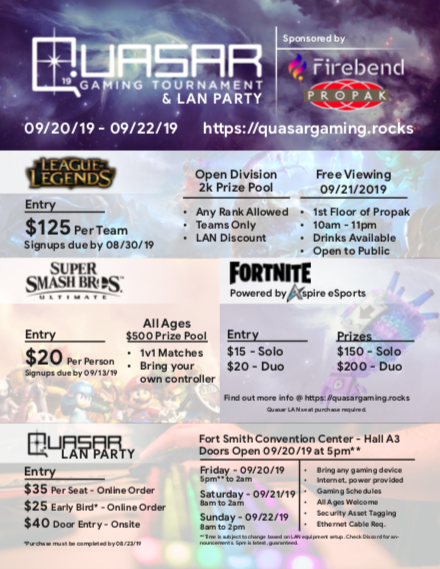 2019!
Quasar Gaming returns to downtown Fort Smith for the second annual eSports and gaming event September 20 – 22nd. Events include 3 tournaments, a space for participants to bring their own equipment to game with other people, and an afterparty with live music and drinks.
Quasar brings people from the region and neighboring states to game, network, and join in friendly competition.
Details include:
A dedicated gaming center (LAN Party)
Three tournaments to play in or view – Fortnite, Super Smash Brothers and League of Legends
An after party featuring DJ Shortfuze. This party is free and open the public, with a custom beer provided by Fort Smith Brewing and wine by JKC Cellars.
For event times, locations and to purchase tickets visit https://quasargaming.rocks.
For additional event details or press inquiries contact Denver Dodd at ddodd@firebend.com.
Quasar Gaming is proudly
Powered by Firebend
Hosted by Propak Corporation & Fort Smith Convention Center
Special Thanks to our Current Contributors and Sponsors:
Firebend
Propak
Pruitt Productions
Fort Smith Brewing Company
JKC Cellars
Weldon, Williams and Lick