Register Now for Fall 2018 Classes with the Community School for the Arts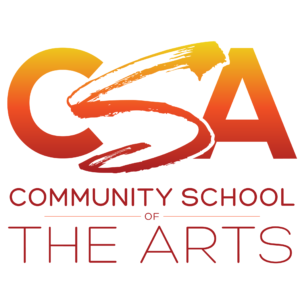 CSA holds to a philosophy of artistic excellence in everything we do. We offer programs and activities that meet the needs and interests of all students. Our programming is provided by top artists and professionals who love to work with young people as we seek to make a difference in the lives of the next generation.
In addition to classes and lessons, performances, productions, and exhibits are of top priority at CSA. We want all students to experience the thrill of presenting their craft to others. Family friendly and family focused entertainment is central to all that we do at CSA. Get ready for a great line-up of shows. CSA is your arts connection!
Register for Fall 2018 Classes Here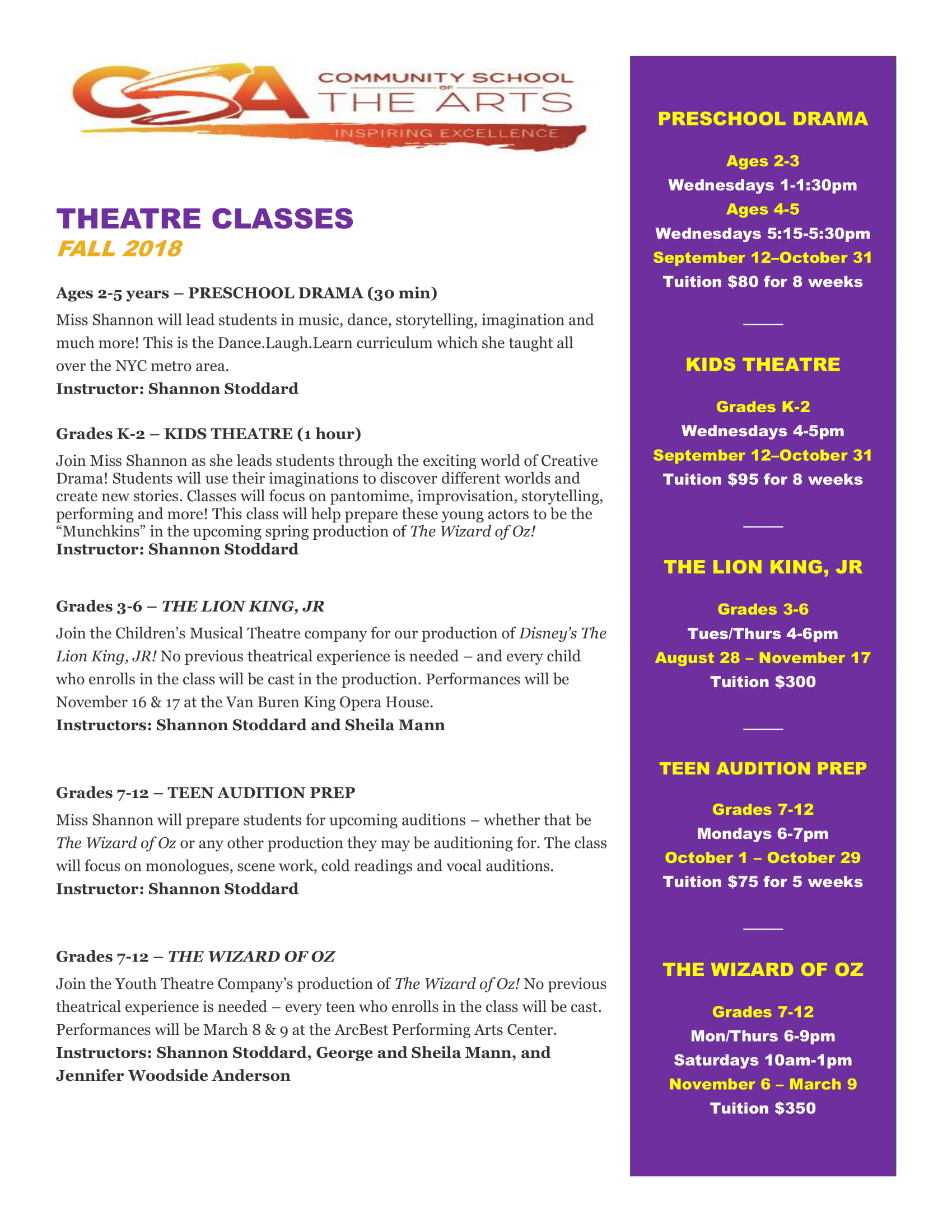 Private Lessons
in Music, Theatre, Dance & Visual Art (Ages 3 – Adult)
15 /10 / 5 week sessions available •  August 27-December 15
Chamber Strings
AUDITIONED ENSEMBLE
Auditions August 27  & 28 – or by appt.
Mondays 6pm – 7:15pm
Sept. 10 – Dec. 10
Instructors: Lori Fay, Barbara Godette & Cory Winters
THE LION KING, JR
Children's Musical Theatre Company
Grades 3-6
Tues/Thurs 4-6pm
August 28 – November 17
Instructors: Shannon Stoddard & Sheila Mann
Ukulele Classes
Grades K-2
Mondays 4 – 4:30pm
Sept. 10 – Nov. 12
OR
Grades 3-6
Tuesdays 4 – 4:30pm
Sept. 11 – Nov. 13
OR
Grades 7 and up
Tuesdays 4:30 – 5pm
Sept. 11 – Nov. 13
Instructors: Melissa Ree (grades K-2) & David Holland (grades 3 & up)
Visual Art Classes
Grades 1-4
Mondays 4:30 – 5:30pm
Sept. 17 – Nov. 12
&
Grades 5-9
Wednesdays 4:30 – 5:30pm
Sept. 19 – Nov. 14
Instructor: Marianne Nicodemus
PRESCHOOL DRAMA
Ages 2-3
Wednesdays 1-1:30pm
Ages 4-5
Wednesdays 5:15-5:30pm
September 12–October 31
Instructor: Shannon Stoddard
KIDS THEATRE
Grades K-2
Wednesdays 4-5pm
September 12–October 31
Instructor: Shannon Stoddard
TEEN AUDITION PREP
Grades 7-12
Mondays 6-7pm
October 1 – October 29
Instructor: Shannon Stoddard
THE WIZARD OF OZ
Youth Theatre Company
Grades 7-12
Mon/Thurs 6-9pm
Saturdays 10am-1pm
November 6 – March 9
Instructors: Shannon Stoddard, Jennifer Woodside Anderson
& George & Sheila Mann
HOMESCHOOL CONNECTION CLASSES
Ukulele Class
Ages 8-12 / Grades 3-6
Mondays 2pm-2:50pm
September 10–October 29
Instructor: Melissa Ree
Creative Playwriting
Ages 13-19 / Grades 7-12
Wednesdays 2pm-2:45pm
September 12-October 17
Instructor: Shannon Stoddard
Homeschool Musical
Ages 8-12 / Grades 3-6
Wednesdays 2pm-3:30pm
September 12-October 31
Instructors: Shannon Stoddard & Jennifer Woodside Anderson
SHOWCASE:
October 31 at 2:30pm
Creative Movement
Ages 5-7 / Grades K-2
Wednesdays 1pm-1:45pm
September 12-October 31
Instructor: Jennifer Woodside Anderson