JANUARY – MARCH: ARTS & CULTURE
Our rich culture of arts and history is a huge influence within our community. During these months, we will focus on bringing life to artifacts and exhibits that make up our past, present, and future. We will also focus on uncovering new artists and talents based right here in Fort Smith. During these months outstanding musical performances as well as art shows and more!
March 21: Quilt Show and Contest, Fort Smith Museum of History
As part of the Fort Smith Bicentennial Celebration, the Fort Smith Museum of History will host a quilt show featuring the work of the Belle Point Quilters Association. Visitors are asked to vote for a quilt sample to be included in the bicentennial time capsule. The quilts will be displayed through March 31, 2018. A show featuring the work of the guild is scheduled for October at the Fort Smith Convention Center.
March 21: 1820 Watercolor "Fort Smith Arkansaw," Fort Smith Museum of History
As part of the Fort Smith Bicentennial Celebration, the Fort Smith Museum of History is currently featuring the only known image of the first Fort Smith: a watercolor executed by artist Samuel Seymour in 1820. Seymour visited Fort Smith on the return from the 1819-1820 Rocky Mountain Expedition with Major Stephen H. Long, U. S. Army Engineer. Seymour was the first artist commissioned by the U. S. Army to document the landscape and people of the vast western lands acquired through the 1803 Louisiana Purchase.
Possibly an Englishman by birth, Samuel Seymour was known to reside in Philadelphia and New York City. As early as 1796, Seymour exhibited his landscape paintings at various shows sponsored by the Pennsylvania Academy of the Arts in Philadelphia.
Samuel Seymour's illustrations are contained in the official records of two expeditions under Major Stephen H. Long: The Rocky Mountain Expedition, 1819-1820, and an 1823 expedition to the headwaters of the St. Peters River in Minnesota. Upon his return to Philadelphia in 1823, Seymour's sketches and drawings from the expeditions were well received and widely publicized. Following the expeditions, Samuel Seymour is lost from the historical record with his death estimated anywhere from 1824-1832.
The original "Fort Smith Arkansaw" may be viewed through April 28, 2018. View this unique piece of Fort Smith history and learn about the artist who created it.
The watercolor is loaned courtesy of the Academy of Natural Sciences of Drexel University Coll. 820.
---
APRIL – JUNE: WESTERN HERITAGE MONTH
Western Heritage is in our blood. During these months, we will be celebrating what truly makes us the Top True Western Town. Everything you would expect, and more!
APRIL 2018 – Civil War Period
Month long events:
*Three lectures; one on events leading to Arkansas secession and the other two on major battles in and around Fort Smith.
*Two re-enactments featuring different accepts during the Civil War affecting Fort Smith.
* One period dance
The month of April 2018 will focus on the Civil War period in Fort Smith. There will be three different presentations given by three local academic experts covering the events in Arkansas leading up to succession and its effects on Fort Smith, the Battle of Backbone Mountain, and the Battle of Mazzard Prairie. There will be two days of living history events with local re-enactors portraying actual people living in Fort Smith during the war telling their stories adapted from primary sources. Then lastly, there will be a Civil War Ball featuring The Camp Followers Band who will teach four period dances. Everyone is encouraged to wear period dresses and Union or Confederate uniforms or come as you are.
One-time events;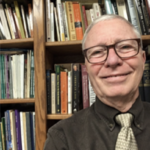 April 5:  Frisco Station from 6-8pm Professor Billy Higgins in honor of Fort Smith's bicentennial will give
apresentation on the Civil War in Fort Smith. The focus of his lecture will be the political
debates and events that lead to Arkansas secession and its impact on Fort Smith. This event is free to the public. Professor Higgins will be available for a book signing afterwards.
April 7:  Candlelight Tour:
Six vignettes covering succession to Union occupation of Fort Smith featuring local re-enactors portraying Fort Smith residents who lived during the Confederate and Union occupation of Fort Smith held at the National Historic site parade grounds: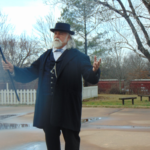 1. resident and wife of Mayor Kannady, Sophia Barling Kannady (played by Sue Trisler) will recall when Arkansas State militia came took the town over from the federals.
2. will be a gathering of the Fort Smith rifles, city mayor, Captian Spark and Mary Rutherford  to present the rifles with their company flag before marching to Wilson's Creek.
3. Isiah Bruce of the Fort Smith Rifles will be lying under a shebang talking about how he was wounded at the Battle of Wilson's Creek.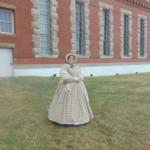 4. John Wheeler (publisher of the Fort Smith Herald) is talking to W.B. Sutton (Dry Goods Owner of Sutton and Springs Co.) about moving to Texas after the Battle of Prairie Grove.
5.  Jerre Kannady discuss going to Texas fear of increased pro-Union presents and low morale among the Confederate troops.
6. General Blunt arrives and announces that Cabell and his men are on the run and pursued by Col. Cloud and the city is now in Union hands and orders the colors to be raised.
April 12: Lecture by Col. Tom Waller on the Battle of Devil's Backbone in the evening 6-8pm at the Frisco Station. Free
April 14: 19th Century Living History Ball at the Fort Smith Museum of History with Camp Follower band from 7-9pm. It is encourage to dress in 19th Century attire of your liking or come as you are. $10 per person.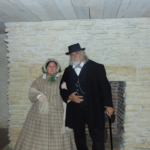 April 21:  Recreation of one of the Union General Hospitals at the Clayton House from 10:30am to 4pm.
Special  presentations by Doug Kidd. Kids activities included.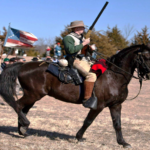 April 28: Cody Farber will give a presentation on the Battle of Massard Prairie that took place in late July 1864 near
were the Hiram Walker Plant on Hwy 45 sets today. The presentation will be at the Fort Smith Musuem of History from 6 to 8pm. Regular museum price will be charged at this event. This is a Fort Smith bicennetial event. Cody Faber is a local Arkansan and is a Park Ranger at Fort Smith National Site and has been working there since 2008.
He graduated with is Masters in Education and Historical Interpretation in 2011 from Lindenwood University in Missouri. His lifelong study of the Civil War led him to his job at the park and a deeper understanding of many of the local e
ngagements including the Battle of Massard Prairie. He will be discussing not only the battle itself, but the events that led up to the fight, the men and equipment that was at the battle, and it's repercussions throughout the area.
Wild West Wednesday's in June!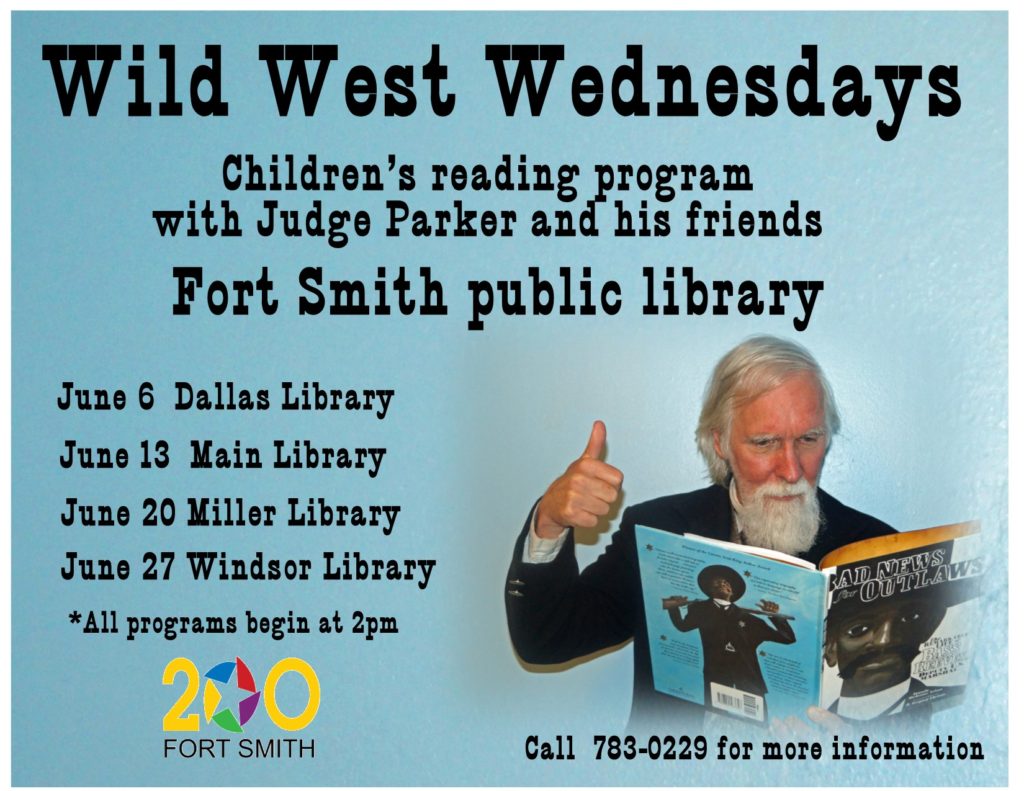 Saturday June 2, Fort Smith Museum of History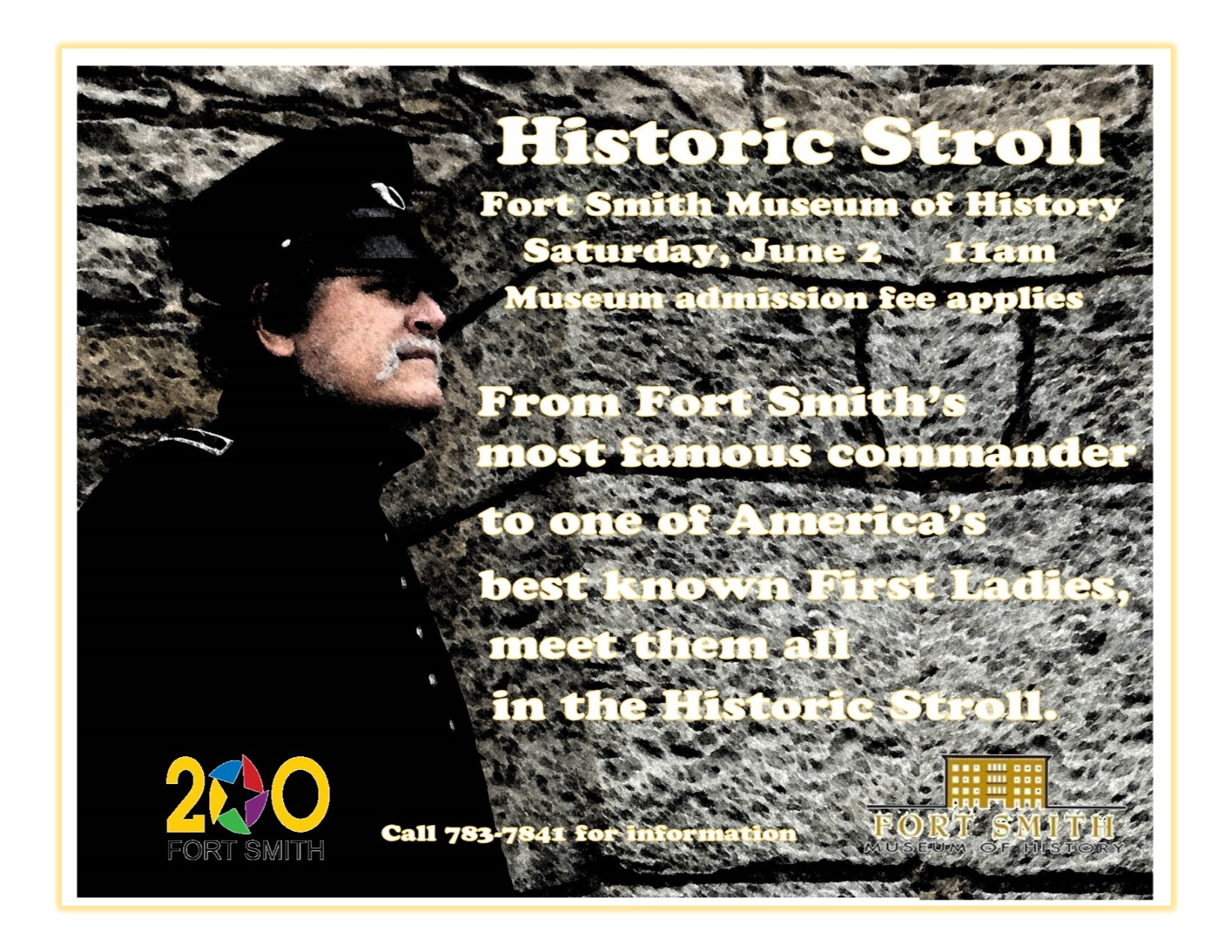 June 15-16, Fort Smith Historic Site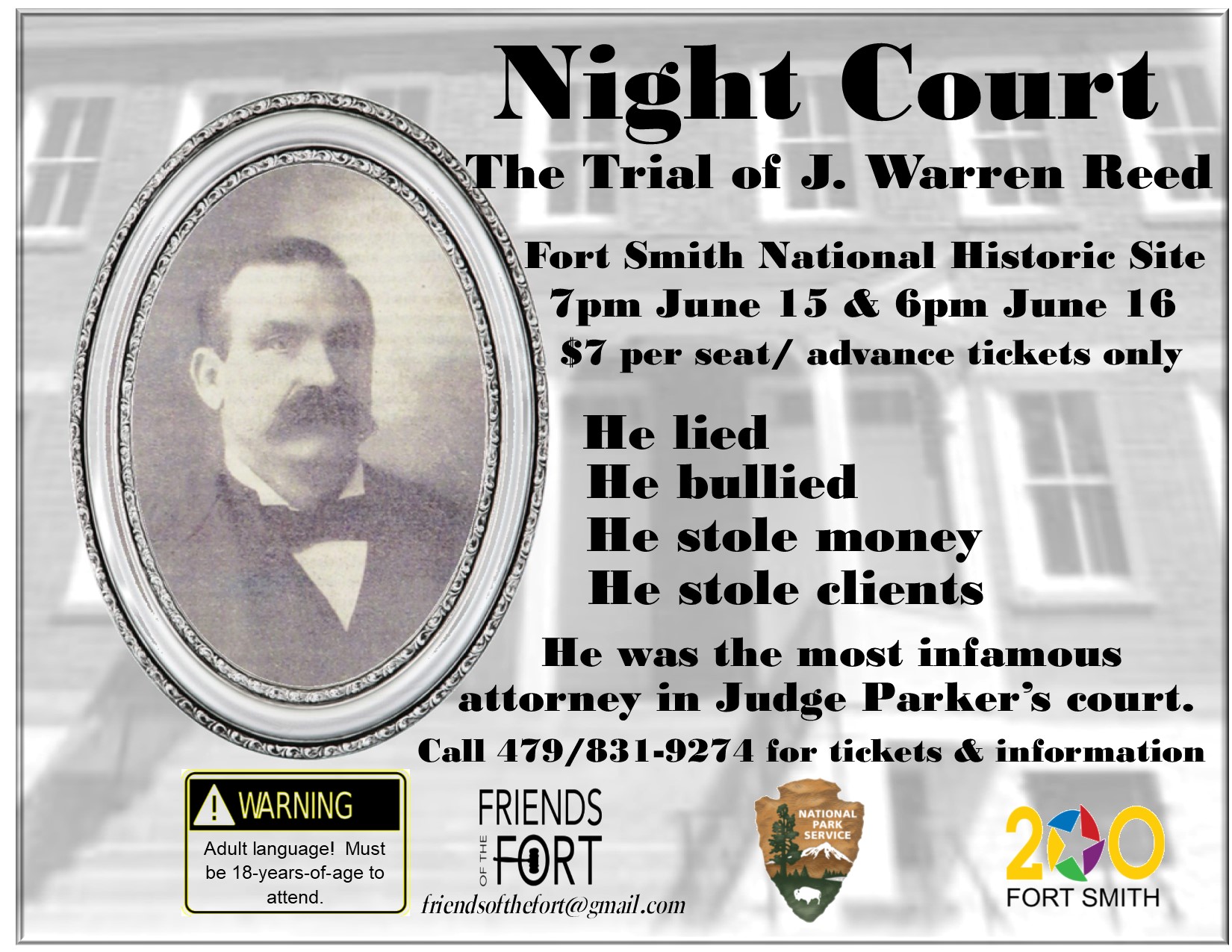 June 23rd, Fort Smith Historic Site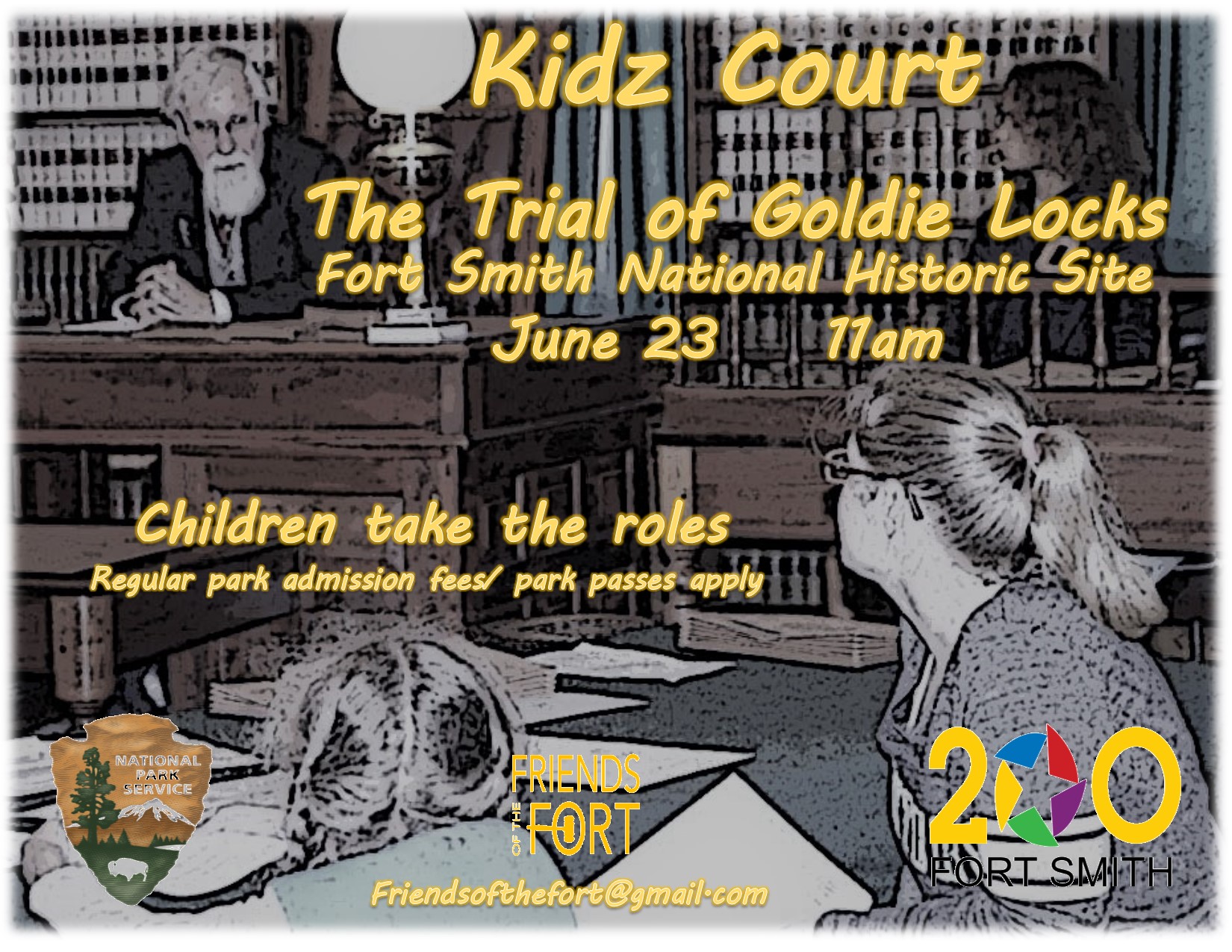 June 30, Fort Smith National Historic Site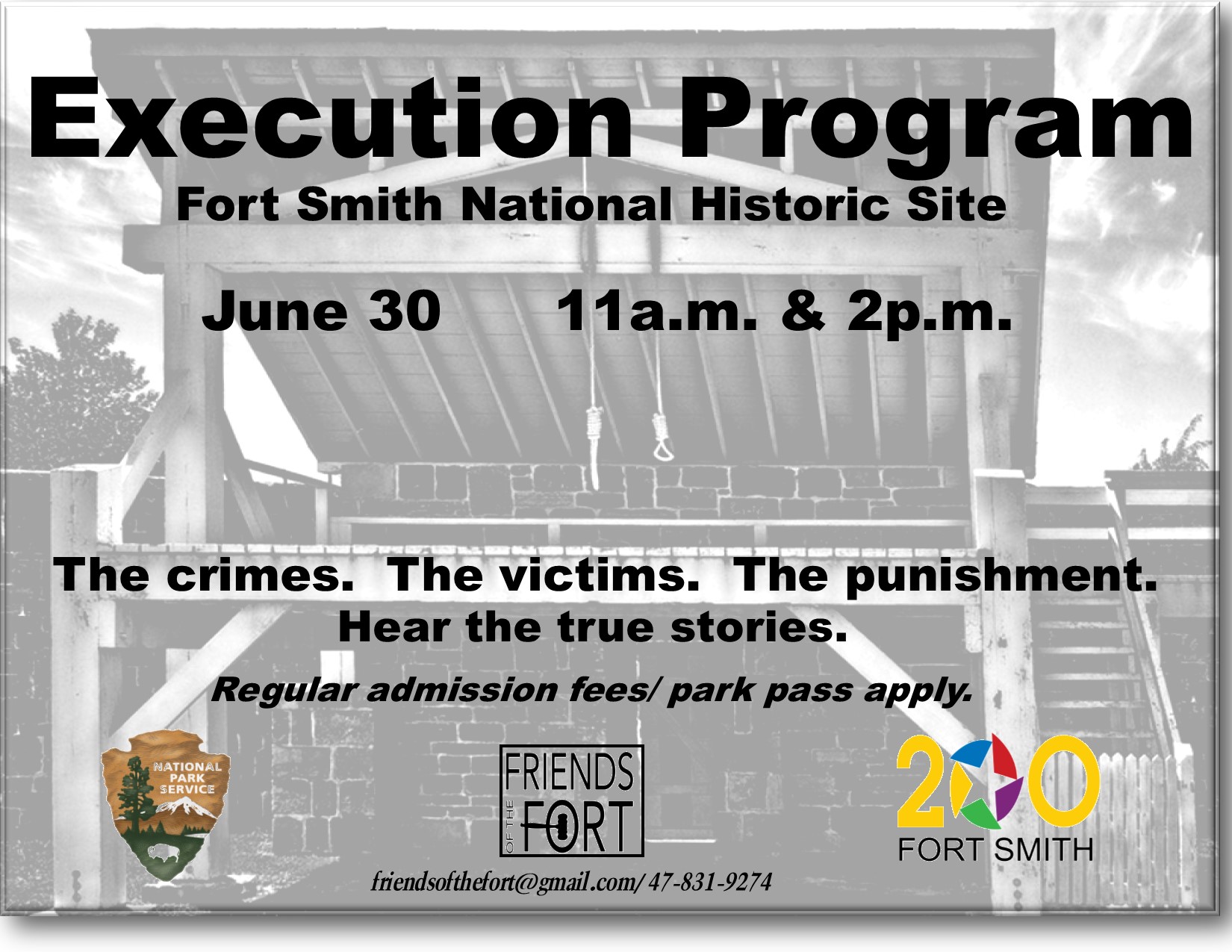 June 30, Fort Smith Museum of History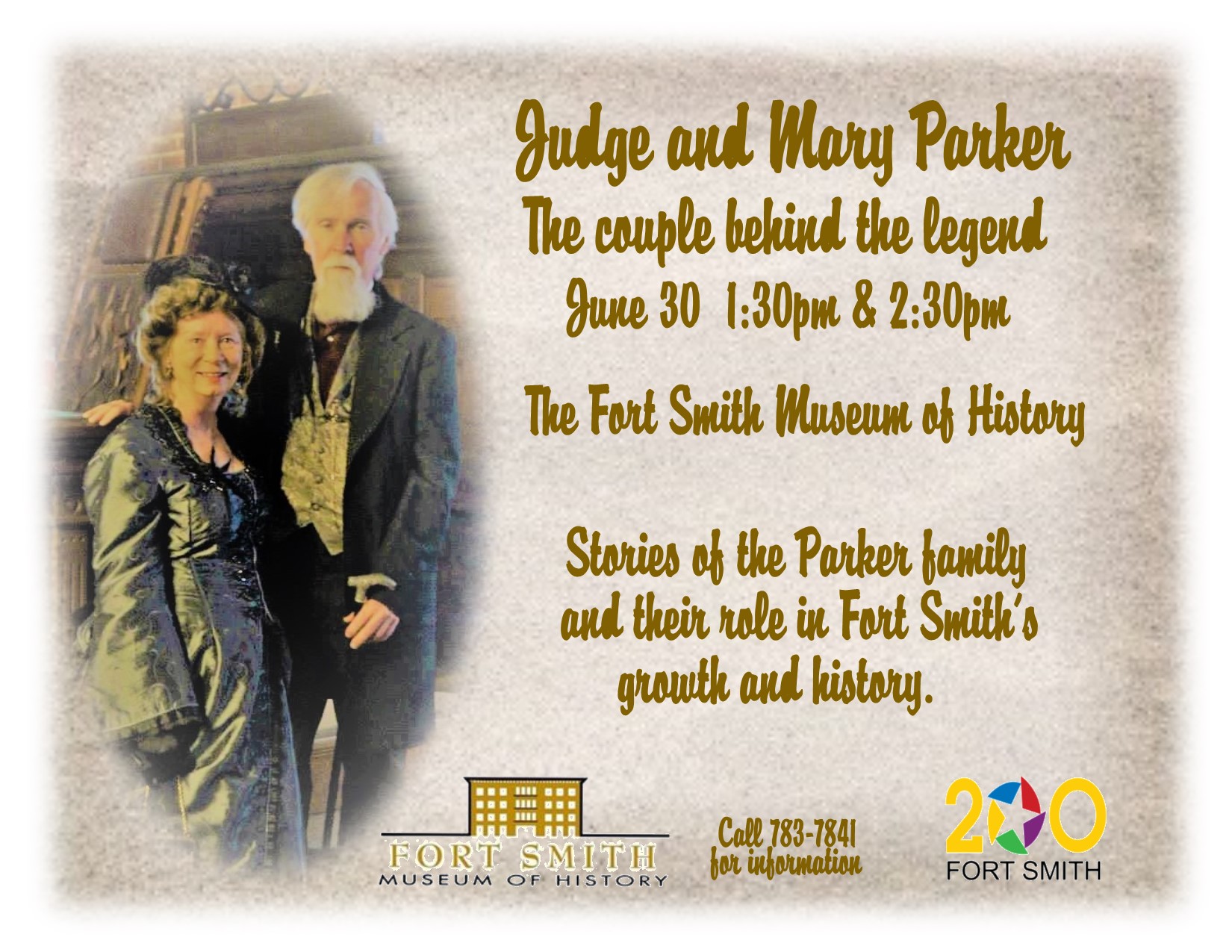 ---
JULY – SEPTEMBER: HOMECOMING
During these months, we will be focusing on "Homecoming." We are encouraging those who have a rich family heritage in Fort Smith to plan family reunions and get-togethers. Those who were born here, raised here, or currently live elsewhere are encouraged to come back home to appreciate all Fort Smith has to offer.
---
OCTOBER – DECEMBER: FUTURE FORT SMITH
We love where we've been and where we are. It's easy to focus on who we were, but during these months we will be focusing on where we are going. We will explore what the future holds for you and our great community.