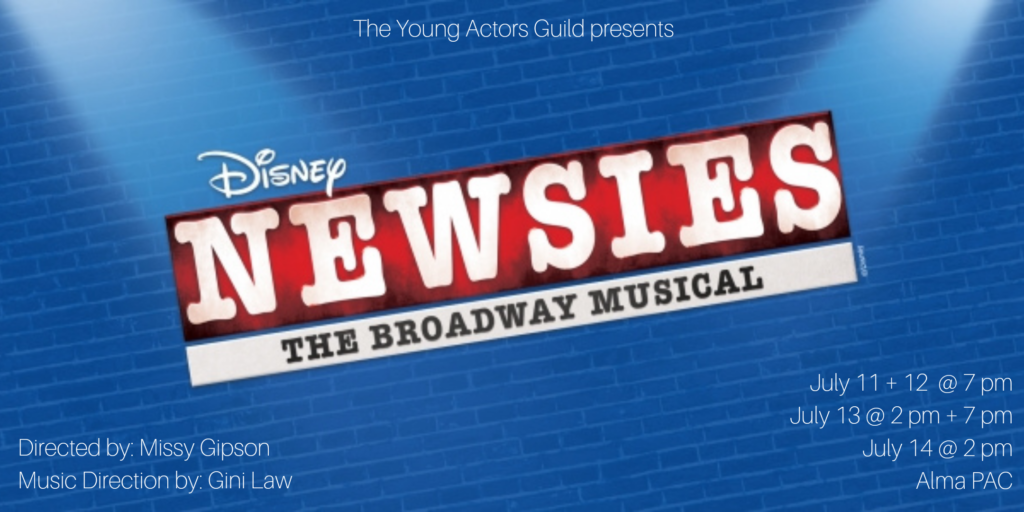 Synopsis:
A talented cast of young actors from the River Valley and surrounding areas set the scene accompanied by a live orchestra. 
New York City, 1899. Jack Kelly and his ragtag team of newsboys make a meager living selling newspapers on the city streets. But when the prices of "papes" are hiked and the newsies are hung out to dry, there is nothing left to do but "open the gates and seize the day!" Led by charismatic Jack and independent, young newspaper reporter Katherine Plummer, the Newsies form a union and organize a strike against the greedy publisher of the New York World. 
Thursday, July 11th at 7 PM
Friday, July 12th at 7 PM
Saturday, July 13th at 2 PM
Saturday, July 13th at 7 PM
Sunday, July 14th at 2 PM
18+  $15
3-17  $10
2 and under Free
VIP Tickets $30- Include Premium Seating and a VIP Lounge for Pre-Show and Intermission. 
Directed by Missy Gipson
Music Direction by Gini Law