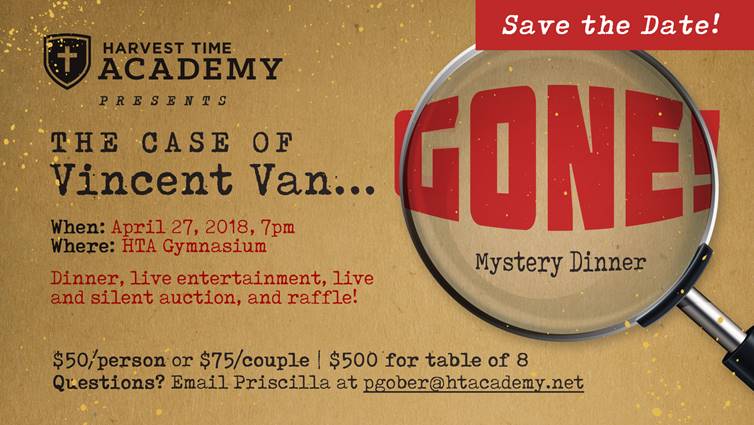 Harvest Time Academy will host their inaugural Mystery Dinner at 7 p.m., Friday, April 27 at 3300 Briar Cliff. This year's mystery is "The Case of the Vincent Van… GONE!"
During this interactive catered event, guests at each table will compete to figure out who can solve the mystery first while enjoying live music, a great meal and both live and silent auctions. Tickets are $50 per person or $75 per couple and can be purchased on the school's website, Facebook event page, at Harvest Time Church or School.  Raffle tickets will also be sold at the event for $20 each. The winner will get first pick of the live auction items.
Multiple sponsorship opportunities, ranging from $500 to $5,000 are available for businesses and corporations who want to get involved. For more information on sponsorship opportunities contact Priscilla Gober at pgober@htacademy.net or call 479-646-6003.
This event is unlike any other in Fort Smith and will serve as the Christian-based elementary school's spring fundraiser.
"We wanted to offer something fun and different for the Fort Smith community," said Michelle Sloan, HTA Director. "We hope to provide an awesome experience for anyone looking for a great night out and a chance to support the activities and education we provide our students at Harvest Time Academy."
Harvest Time Academy is a 501(C)(3) organization which is committed to reaching, embracing, engaging and growing this generation of Christ-followers. In addition to a Bible-based curriculum, the school also provides STEM (Science, Technology, Engineering and Mathematics) education for students, art, music, Spanish, after-school programs, and free lunches for students K3-6th grade.  For more information on Harvest Time Academy visit htacademy.net
SOLD OUT